Scanning the aerial view:
legitimate and illegitimate
information
By KMBosy
Speaker's Corner (above)
Video & photogrammetry models, from top:
Shoes, leaf, bottle cap
Video postcards
My critical-documentarist art practice and PhD research draws on structural film as a main field of reference and diaristic practice, inherently dispersed ways of working, using video, still photography and other media to negotiate site(s). As material site becomes with our online spaces, I research the ways in which site is documented in arts practice using dispersal as a strategy to address being in the world. My research considers site as spaces described as made by multiplicities of trajectories and stories-so-far, by Doreen Massey in analysis of spatial theories (For Space, 2005).
My virtual objects of London spaces, Speaker's Corner in Hyde Park and Parliament Hill and Fields in Hampstead Heath, presented here as video postcards, take a questioning form. With the photographic object there is a time lapse despite the indexicality of the process; the past seems beyond our reach. The photographic image loosened from authorial control, loitering, wandering, daydreaming, beckons us into its vacated centre. We project our own reading, our own intentions, and desires through the images we collect.
My photographs play with the postcard and our desire to capture the lost past, lost desire. Placed within the politics of the reproduction, the photographer disappearing, the postcard becomes an anticipatory space, expendable, and revealing something about the viewer. Playing with the postcard, my photographic images, as registers of attention/inattention, become recursive visual souvenirs encouraging personal negotiations, documents of sites anticipating deconstruction.
Photogrammetry and photography
Photogrammetry software generates a point cloud and compiles digital objects from photographs. A point can also denote a destination in maps using GPS technology (a technology which generates a point cloud). In addition, photographs are drawn on to achieve a timeless, seamless presentation; photographs are applied as textures to the mesh surfaces of photogrammetry virtual objects. To consider this way of working using a point cloud and photography I made photogrammetry models, revisiting sites already documented within my art practice.
As an artist documenting sites within urban green spaces, I see the register of subjectivity in our experience of site as under pressure. The photograph's indexical nature, although challenged by the shift to the digital, is implicitly referenced in the digital objects used by mapping applications to represent sites. Scanning the aerial view: legitimate and illegitimate information, is research into photogrammetry as a way of working used by mapping apps. My collection of digital objects is an attempt to document the landscape using photogrammetry, cartography's grid occupying the authorial space of the photograph, with an emphasis on my personal experience and viewpoints.
Reference: Massey, Doreen B. For Space. London ; Thousand Oaks, Calif: SAGE, 2005.
Parliament Hill Fields (above, right and far right))
Video & photogrammetry point cloud, from top: viewpoint, bench, tree. Video & photogrammetry models (right and far right)
Site map of Hampstead Heath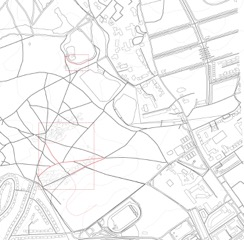 Parliament Hill, Hampstead Heath location map